Using high-precision fabrication technology, Ohmura has developed the SPN85H series pressure swirl fuel nozzle for use as gas turbine fuel nozzles.

As a result of design that takes account of the need for high heat resistance, these nozzles are suitable for use in fuel test equipment and in actual gas turbines. They have fine-grain features thanks to laser CT mist structure analyzers, and are provided with complete mist pattern data. The shapes of these nozzles can be modified for different applications.




This product was developed based on the results of patents filed by the German Aerospace Research Establishment (DLR) and the Research Results Optimal Transfer Enterprise/ Results Development Program B (Creative Modeling) of the German Science and Technology Agency.
¡Specifications
Part No.
Designation
Flow Rate(g/sec)
Typical Particle Diameter SMD(ƒÊm)
Spray Angle
0.7MPa
0.2MPa
0.4MPa
0.7MPa
0.2MPa
0.4MPa
0.7MPa
SPN85H
43
7.0
9.6
11.9
¦
¦
¦
85‹
36
5.7
7.9
9.9
¦
¦
¦
26
4.2
5.7
7.4
85
73
63
20
3.2
4.4
5.7
77
65
55
15
2.4
3.2
4.2
70
59
51
10
1.7
2.3
2.9
70
52
45
9
1.4
1.9
2.5
68
52
45
*Not measured due to excessive flow rate Measurement Liquid: Kerosene
¡External View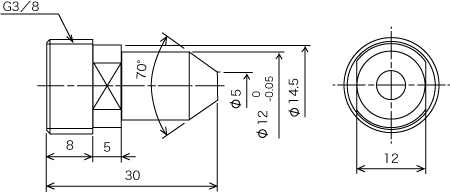 ¡Example of Analysis via Laser CT Spray Structure Analyzer
Atomization Characteristics
SMDAverage:76.0ƒÊm
(Typical Particle Diameter)

D10 Average:39.3ƒÊm
(10% Particle Diameter)

D50 Average:112.6ƒÊm
(50% Particle Diameter)

D90 Average:188.5ƒÊm
(90% Particle Diameter)
Spray Pattern